HorsePower Hannover is a student association that is dedicated to develop and build an electric racing car and participate in the Formula Student Electric challenge every year. In this respect, we are especially looking for electrical engineering, mechanical engineering, mechatronics or industrial engineering students who are interested in getting an active member of our HorsePower team. Students coming from other disciplines are welcome, too.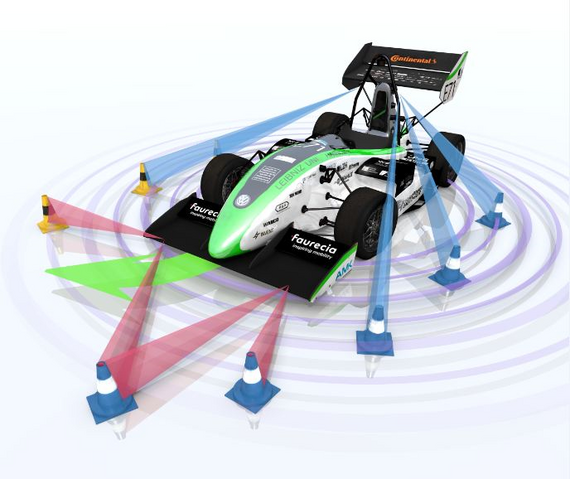 Status Quo
The current Horsepower team consists of approximately 80 students from a wide range of disciplines. Mechanical engineering, but also electrical engineering, industrial engineering and mechatronics are strongly represented. This team has been successfully designing and building vehicles since 2009 (since 2011 with purely electric drives), which will then be used to compete against international competition on prestigious routes such as Silverstone in the summer.
HorsePower Hannover has also been developing an autonomous racing vehicle every year since 2017, which means that the team will of course face new challenges. In addition to image and object recognition, additional actuators must also be developed and controlled.
What's the plan?
A vehicle with electric drive will be built this year as well. Enthusiastic mechanical engineers, mechatronic engineers and industrial engineers are essential for a successful project.
What is there to do from the electrical engineering side?
Selection and testing of a suitable electric motor by means of calculations and simulations taking into account certain boundary data, e.g. weight, power, speed, installation space, cooling, gear ratio, requirements under racing conditions Suitable power converter, drive control Battery system with corresponding electronics Regeneration of the braking power into the battery system Sensors for the input signals, e.g. accelerator pedal, brake pedal, etc. Implementation of control algorithms for vehicle dynamics control Actuators Development for the autonomous system (lane assistant, brake control...) Software development for embedded systems and the autonomous system Hardware-in-the-loop simulation of the control architecture Communication and interfaces of the overall system (possibly via a bus system) Circuit design for hardware systems Find sponsors (The project is financed entirely by sponsors)
What's in it for me?
In addition to the fun of the project and the cooperation with a great team, you get to know many companies directly and have the opportunity to build up business relationships in technical discussions even during your studies. Participation in such a project, which expects team spirit as well as a great deal of independence and which also builds up a great deal of practical experience, is of course great in any CV. Furthermore, the project offers sufficient potential for master's/studies/bachelor's theses, from which HorsePower also benefits through your involvement. The supervision of such a thesis could be taken over by the IAL after consultation.